Free Call Center Dialer with Online Backup
IN BRIEF
Easy to install
We take stock Vicidial and make it auto configuring and easy to install.
Use Windows OS
Trikon's Inhouse Dialers use Windows, no need to hire Linux administrators.
Hosted twin
Inhouse dialer maintains a Hosted twin dialer that it updates every 20 minutes as a backup.
Seamless failover
Switch between Inhouse and its hosted twin as your requirements change.
Free online demo
Test drive the dialer with our free hosted demo.
Take demo
Making Vicidial® Easy
WarmConnect's outbound call center software is designed to be easy to install inhouse. It uses Windows 8 OS, so no need to hire Linux administrators. It has a hosted "twin" that allows you flexibility to switch between inhouse and hosted flavors. You can start with hosted, and then take the dialer inhouse with automatic migration of calling data. You can also switch back to hosted when facing trouble with the inhouse dialer! Inhouse dialers are free, with many optional services from WarmConnect to make your life easier.
Inhouse Dialer Details
The same dialer you demo at our site is available as a download for you to install.
We take stock Vicidial® and make its installation a breeze.
The dialer is auto-configuring allowing for fast startup.
We ease hiring administrators by using Windows OS.
You can start by using the hosted version and then take the dialer inhouse.
Taking it inhouse lets you integrate inhouse software or PSTN lines.
Inhouse dialers are completely free of any licencing cost or rent.
We offer minutes in 3 rate decks for your dialer. USA, Canada and UK LL at Rs0.39 - Rs0.49/min.
We also offer phone numbers for your inhouse dialer.
Full helpdesk support for dialer with our telephony services.
World's Most Fully Featured Dialer!
Based on Vicidial®, the world's most popular dialer
Inbound, Outbound and Blended call, email and SMS handling
Outbound agent-controlled and predictive dialing
Full USA FTC-compliance capability
Single tenanted for maximum TCPA compliance.
Stir/Shaken Compliant
Web-based agent and administrative interfaces
Ability to have agents operate remotely
Integrated call recording
Three-Way calling within the agent application
Scheduled Callbacks: Agent-Only and Anyone
Avatar Soundboard capabilities for agent accent removal
General Requirements
Softphone and head set for each agent. Use Zoiper®. Its free!
Hardphone for each agent as alternative for Softphone.
Hardphone = ata or channel bank + dial pad + headset.
Codec is speex on agent phone (Zoiper or similar)
Dialer operator with past experience in administering dialers
Requirements for 20 seat predictive dialer
Core Intel i3 4130 4th generation desktop CPU or better.
4GB RAM
Windows 8 64bit
4MBPS Internet bandwidth for upstream and downstream.
Bandwidth must not be shared with data downloads/uploads
Requirements for 40 seat predictive dialer
Core Intel i5 4440 4th generation desktop CPU or better.
8GB RAM
Windows 8 64bit
8MBPS Internet bandwidth for upstream and downstream.
Bandwidth must not be shared with data downloads/uploads
Bandwidth for Hosted Dialer
Predictive Dialers dial more lines than there are agents, because most calls are not answered or land in voice mail. Predictive dialing thus uses much more bandwidth than manual dialing. The ratio of lines dialed to agents is called pacing ratio in dialer terminology. If pacing ratio is 2.5, and you have 10 agents, the dialer will dial 25 calls simultaneously. This is explained in the diagram.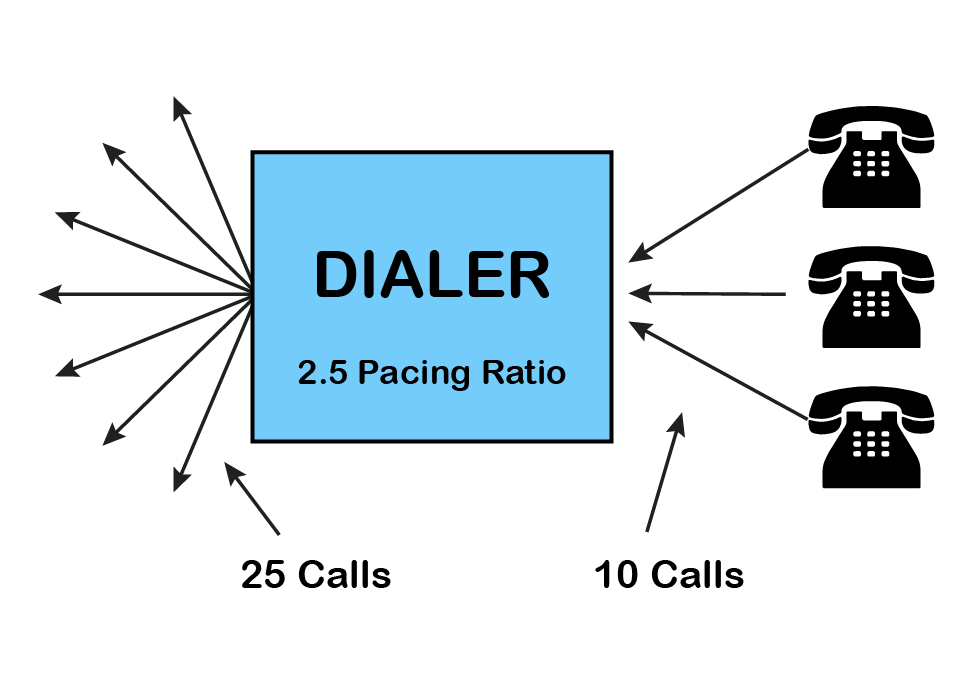 If the dialer is in your premises, you must cater to bandwidth for 25 calls, whereas if it is hosted with us, you need to cater to just 10 calls.
Getting the Inhouse Dialer
Signing up for a free trial
Click on the "take demo" link and register for the free trial.
A hosted demo dialer will be started for you in a minute, along with a help pane with instructions.
The dialer will remain functional for a couple of hours before switching off.
We recommend scheduling a walk through of the trial by sending us a phone, time and time zone to call you at.
We add credit daily for about 5 days to let you return to the trial.
take demo
Converting hosted demo to
an

Inhouse

Dialer
You can continue with the hosted dialer till you arrange for the requirements listed here.
Once requirements are in place, download the dialer and install.
The Inhouse dialer automatically downloads your data from its hosted twin.
Every 20 minutes, the Inhouse dialer uploads data to its hosted twin as a backup.
get started with demo
Full Dialer Feature List
The following content is Copyright 2013 VICIdial Group
Ability for an agent to call clients in succession from a database through a web-client
Ability to display a script for the agent to read with fields like name, address, etc. filled-in
Ability to set a campaign to auto-dial and send live calls to available agents
Ability to dial predictively in a campaign with an adaptive dialing algorithm
Ability to dial on a single campaign across multiple Asterisk servers, or multiple campaigns on a single server
Ability to transfer calls with customer data to a closer/verifier on the local system or a remote Asterisk server
Ability to open a custom web page with user data from the call, per campaign
Ability to autodial campaigns to start with a simple IVR then direct to agent
Ability to park the customer with custom music per campaign
Ability to send a dropped call to a voicemail box per campaign if no agent is available
Ability to set outbound CallerID per campaign
Ability to take inbound calls grabbing CallerID
Ability to function as an ACD for inbound and fronter/closer verification calls
Ability to have an agent take both inbound and outbound calls in one session(blended)
Ability to start and stop recording an agent's calls at any time
Ability to automatically record all calls
Ability to manually or automatically call upto two other customer numbers for the same lead
Automatically dial unlimited numbers per customer until you get an answer
Ability to schedule a callback with a customer as either any-agent or agent-specific
Ability in Manual dial mode to preview leads before dialing
Ability for agents to be logged in remotely anywhere with just a phone and a web browser
Faster hangup and dispositioning of calls with one key press (HotKeys)
Definable Agent Wrapup-time per campaign
Ability to add custom call dispositions per campaign
Ability to use custom database queries in campaign dialing
Recycling of specified status calls at a specified interval without resetting a list
Dialing with custom TimeZone restrictions including per state and per day-of-the-week
Dialing with Answering Machine Detection, also playing a message for AM calls
Multiple campaigns and lead-lists are possible
Option of a drop timer with safe-harbor message for FTC compliance
Variable drop call percentage when dialing predictively for FTC compliance
Internal DNC list can optionally be activated per campaign
All calls are logged and statuses of calls are logged as well as agent time breakdowns
Load Balancing of call across multiple inbound or outbound Asterisk servers is possible
Agent phone login balancing and failover across multiple ViciDial servers
Several real-time and summary reports available
Real-time campaign display screens
3rd party conferencing(with DTMF macros and number presets)
3rd party blind call transfer
3rd party conferencing with agent drop-off
Custom Music-On-Hold and agent alert sound for inbound calls
Estimated hold time, place in line, overflow queues and several other inbound-only features
Skills-based ranking and call routing per inbound group(queues) and campaign
Queue Prioritization per campaign and inbound group
Avatar Soundboard capabilities for agent accent removal
Single agent call queueing
Ability to set user levels and permissions for certain features and campaigns
Ability for managers to listen-in on agent conversations
Ability for managers to enter conversations with agents and customers
Ability for agents to select a Pause Code when they are not active
Ability for agents to control volume levels and mute themselves
Agent shift enforcement by day and time, defined per user group
Full QueueMetrics-compatible call logging, inbound and outbound
Several Vtiger integration features: user-sync, account-sync, data interconnection
Full integration with Sangoma Call Progress Detection(CDP) for better Answering Machine Detection(AMD)
Multi-function web-based agent API allowing for control of agent sessions including click-to-dial outside of the agent screen
Lead import web-based API
Web-based data export utilities
Separate Time-clock application to track user work time
Web-based administration
DID, phone and carrier trunk provisioning through the web interface
take demo
Per Minute Tariff Plan
Rates are subject to change without notice.
Rates in INR.
| | | | |
| --- | --- | --- | --- |
| Code | | Country | Rate |
| 1782, 1600, 1825, 1780, 1587, 1403, 1778, 1604, 1250, 1236, 1431, 1204, 1506, 1709, 1902, 1343, 1613, 1548, 1807, 1519, 1647, 1905, 1705, 1226, 1437, 1249, 1416, 1289, 1365, 1418, 1438, 1514, 1450, 1581, 1579, 1819, 1873, 1306, 1639, 1674 | | Canada | 0.4900 |
| 1 | | USA | 0.6500 |
| 888 | | Disaster Relief | 0.6900 |
| 36 | | Hungary | 0.6900 |
| 972 | | Israel | 0.6900 |
| 39 | | Italy | 0.6900 |
| 1787, 1939 | | Puerto Rico | 0.6900 |
| 421 | | Slovakia | 0.6900 |
| 46 | | Sweden | 0.6900 |
| 45 | | Denmark | 0.7900 |
| 47 | | Norway | 0.7900 |
| 354 | | Iceland | 0.8900 |
| 40 | | Romania | 0.8900 |
| | | | |
| --- | --- | --- | --- |
| Code | | Country | Rate |
| 44, 44800, 44808 | | United Kingdom | 0.8900 |
| 420 | | Czech Republic | 0.9900 |
| 30 | | Greece | 0.9900 |
| 82 | | Korea South | 0.9900 |
| 58 | | Venezuela | 0.9900 |
| 54 | | Argentina | 1.4900 |
| 43 | | Austria | 1.4900 |
| 4592, 4593, 4591, 4581, 4571, 4561, 4560, 4553, 4552, 4551, 4550, 4542, 4541, 4540, 4531, 4530, 452 | | Denmark Sp | 1.4900 |
| 3546, 3549, 3548, 3547 | | Iceland Sp | 1.4900 |
| 91 | | India | 1.4900 |
| 353 | | Ireland | 1.4900 |
| 60 | | Malaysia | 1.4900 |
| 976 | | Mongolia | 1.4900 |
| 31 | | Netherlands | 1.4900 |
| | | | |
| --- | --- | --- | --- |
| Code | | Country | Rate |
| 4758, 4759, 479, 474 | | Norway Sp | 1.4900 |
| 507 | | Panama | 1.4900 |
| 51 | | Peru | 1.4900 |
| 4219 | | Slovakia Sp | 1.4900 |
| 886 | | Taiwan | 1.4900 |
| 1808 | | USA Hawaii | 1.4900 |
| 447, 443 | | United Kingdom Mobile | 1.4900 |
| 61 | | Australia | 1.8900 |
| 55 | | Brazil | 1.8900 |
| 673 | | Brunei | 1.8900 |
| 1867 | | Canada Northwest Territories | 1.8900 |
| 57 | | Colombia | 1.8900 |
| 385 | | Croatia | 1.8900 |
| 298 | | Faeroe Islands | 1.8900 |
| | | | |
| --- | --- | --- | --- |
| Code | | Country | Rate |
| 1671 | | Guam | 1.8900 |
| 9725, 97215 | | Israel Sp | 1.8900 |
| 351 | | Portugal | 1.8900 |
| 262269 | | Reunion Island Sp | 1.8900 |
| 1907 | | Alaska | 2.8900 |
| 880 | | Bangladesh | 2.8900 |
| 1441 | | Bermuda | 2.8900 |
| 56 | | Chile | 2.8900 |
| 33 | | France | 2.8900 |
| 350 | | Gibraltar | 2.8900 |
| 306 | | Greece Sp | 2.8900 |
| 299 | | Greenland | 2.8900 |
| 81 | | Japan | 2.8900 |
| 1670 | | Mariana Islands | 2.8900 |
| | | | |
| --- | --- | --- | --- |
| Code | | Country | Rate |
| 92 | | Pakistan | 2.8900 |
| 595 | | Paraguay | 2.8900 |
| 378 | | San Marino | 2.8900 |
| 90 | | Turkey | 2.8900 |
| 449, 448 | | United Kingdom Sp | 2.8900 |
| 614, 611 | | Australia Sp | 3.8900 |
| 62 | | Indonesia | 3.8900 |
| 65 | | Singapore | 3.8900 |
| 975 | | Bhutan | 4.8900 |
| 855 | | Cambodia | 4.8900 |
| 506 | | Costa Rica | 4.8900 |
| 357 | | Cyprus | 4.8900 |
| 594 | | French Guiana | 4.8900 |
| 49 | | Germany | 4.8900 |
| | | | |
| --- | --- | --- | --- |
| Code | | Country | Rate |
| 852 | | Hong Kong | 4.8900 |
| 3631, 3630, 3670, 3620 | | Hungary Sp | 4.8900 |
| 3538, 35376 | | Ireland Sp | 4.8900 |
| 965 | | Kuwait | 4.8900 |
| 856 | | Laos | 4.8900 |
| 423 | | Liechtenstein | 4.8900 |
| 596 | | Martinique | 4.8900 |
| 64 | | New Zealand | 4.8900 |
| 48 | | Poland | 4.8900 |
| 262262 | | Reunion Island Sp | 4.8900 |
| 34 | | Spain | 4.8900 |
| 66 | | Thailand | 4.8900 |
| 1340 | | U.S. Virgin Islands | 4.8900 |
| 584 | | Venezuela Sp | 4.8900 |
| | | | |
| --- | --- | --- | --- |
| Code | | Country | Rate |
| 436 | | Austria Sp | 7.8900 |
| 32 | | Belgium | 7.8900 |
| 591 | | Bolivia | 7.8900 |
| 4209, 4207, 4206 | | Czech Republic Sp | 7.8900 |
| 20 | | Egypt | 7.8900 |
| 590 | | French Antilles & Guadeloupe | 7.8900 |
| 491 | | Germany Sp | 7.8900 |
| 3506, 3505 | | Gibraltar Sp | 7.8900 |
| 77 | | Kazakhstan | 7.8900 |
| 352 | | Luxembourg | 7.8900 |
| 853 | | Macao | 7.8900 |
| 52 | | Mexico | 7.8900 |
| 599 | | Netherlands Antilles | 7.8900 |
| 316, 319 | | Netherlands Sp | 7.8900 |
| | | | |
| --- | --- | --- | --- |
| Code | | Country | Rate |
| 642 | | New Zealand Sp | 7.8900 |
| 5076 | | Panama Sp | 7.8900 |
| 3519 | | Portugal Sp | 7.8900 |
| 7 | | Russia | 7.8900 |
| 1721 | | Sint Maarten | 7.8900 |
| 347, 346 | | Spain Sp | 7.8900 |
| 41 | | Switzerland | 7.8900 |
| 8869 | | Taiwan Sp | 7.8900 |
| 993 | | Turkmenistan | 7.8900 |
| 84 | | Vietnam | 7.8900 |
| 1684 | | American Samoa | 10.8900 |
| 376 | | Andorra | 10.8900 |
| 549 | | Argentina Sp | 10.8900 |
| 973 | | Bahrain | 10.8900 |
| | | | |
| --- | --- | --- | --- |
| Code | | Country | Rate |
| 1809, 1345 | | Caribbean (809 Area Codes) & Dominican Republic | 10.8900 |
| 3579, 3571 | | Cyprus Sp | 10.8900 |
| 1829, 1849 | | Dominican Republic | 10.8900 |
| 503 | | El Salvador | 10.8900 |
| 336, 337, 338 | | France Sp | 10.8900 |
| 995, 99532 | | Georgia | 10.8900 |
| 504 | | Honduras | 10.8900 |
| 996 | | Kyrgyzstan | 10.8900 |
| 961 | | Lebanon | 10.8900 |
| 356 | | Malta | 10.8900 |
| 691 | | Micronesia | 10.8900 |
| 264 | | Namibia | 10.8900 |
| 234 | | Nigeria | 10.8900 |
| 968 | | Oman | 10.8900 |
| | | | |
| --- | --- | --- | --- |
| Code | | Country | Rate |
| 63 | | Philippines | 10.8900 |
| 27, 277, 278, 276 | | South Africa | 10.8900 |
| 249 | | Sudan | 10.8900 |
| 268 | | Swaziland | 10.8900 |
| 992 | | Tajikistan | 10.8900 |
| 598 | | Uruguay | 10.8900 |
| 998 | | Uzbekistan | 10.8900 |
| 967 | | Yemen Arab Republic | 10.8900 |
| 383 | | | 10.8900 |
| 93 | | Afghanistan | 14.8900 |
| 1264 | | Anguilla | 14.8900 |
| 297 | | Aruba | 14.8900 |
| 1242, 1246 | | Bahamas | 14.8900 |
| 501 | | Belize | 14.8900 |
| | | | |
| --- | --- | --- | --- |
| Code | | Country | Rate |
| 387 | | Bosnia | 14.8900 |
| 1284 | | British Virgin Islands | 14.8900 |
| 238 | | Cape Verde Island | 14.8900 |
| 1767 | | Dominica | 14.8900 |
| 593 | | Ecuador | 14.8900 |
| 291 | | Eritrea | 14.8900 |
| 502 | | Guatemala | 14.8900 |
| 98 | | Iran | 14.8900 |
| 3955, 3943, 393 | | Italy Sp | 14.8900 |
| 962 | | Jordan | 14.8900 |
| 692 | | Marshall Islands | 14.8900 |
| 230 | | Mauritius | 14.8900 |
| 977 | | Nepal | 14.8900 |
| 680 | | Palau | 14.8900 |
| | | | |
| --- | --- | --- | --- |
| Code | | Country | Rate |
| 974 | | Qatar | 14.8900 |
| 7840 | | Russia Sp | 14.8900 |
| 966 | | Saudi Arabia | 14.8900 |
| 94 | | Sri Lanka | 14.8900 |
| 1869, 1758 | | St. Kitts | 14.8900 |
| 508 | | St. Pierre | 14.8900 |
| 1784, 1868 | | St. Vincent & Mustique | 14.8900 |
| 905 | | Turkey Sp | 14.8900 |
| 1649 | | Turks & Caicos Island | 14.8900 |
| 971 | | United Arab Emirates | 14.8900 |
| 681 | | Wallis | 14.8900 |
| 244 | | Angola | 19.8900 |
| 3859 | | Croatia Sp | 19.8900 |
| 372 | | Estonia | 19.8900 |
| | | | |
| --- | --- | --- | --- |
| Code | | Country | Rate |
| 9955 | | Georgia Sp | 19.8900 |
| 1876 | | Jamaica | 19.8900 |
| 254 | | Kenya | 19.8900 |
| 377 | | Monaco | 19.8900 |
| 382 | | Montenegro | 19.8900 |
| 95 | | Myanmar | 19.8900 |
| 227 | | Niger Republic | 19.8900 |
| 9687, 9689 | | Oman Sp | 19.8900 |
| 250 | | Rwanda | 19.8900 |
| 221 | | Senegal Republic | 19.8900 |
| 26877, 2683, 26878, 26879, 26876 | | Swaziland Sp | 19.8900 |
| 228 | | Togo | 19.8900 |
| 380 | | Ukraine | 19.8900 |
| 447700 | | United Kingdom Mobile Sp | 19.8900 |
| | | | |
| --- | --- | --- | --- |
| Code | | Country | Rate |
| 355 | | Albania | 29.0000 |
| 1268 | | Antigua | 29.0000 |
| 374 | | Armenia | 29.0000 |
| 994 | | Azerbaijan | 29.0000 |
| 375 | | Belarus | 29.0000 |
| 229 | | Benin | 29.0000 |
| 267 | | Botswana | 29.0000 |
| 359 | | Bulgaria | 29.0000 |
| 226 | | Burkina Faso | 29.0000 |
| 86 | | China | 29.0000 |
| 253 | | Djibouti | 29.0000 |
| 251 | | Ethiopia | 29.0000 |
| 500 | | Falkland Islands | 29.0000 |
| 679 | | Fiji | 29.0000 |
| | | | |
| --- | --- | --- | --- |
| Code | | Country | Rate |
| 358 | | Finland | 29.0000 |
| 241 | | Gabon | 29.0000 |
| 1473 | | Grenada | 29.0000 |
| 245 | | Guinea Bissau | 29.0000 |
| 592 | | Guyana | 29.0000 |
| 964 | | Iraq | 29.0000 |
| 225 | | Ivory Coast | 29.0000 |
| 371 | | Latvia | 29.0000 |
| 231 | | Liberia | 29.0000 |
| 218 | | Libya | 29.0000 |
| 389 | | Macedonia | 29.0000 |
| 223 | | Mali Republic | 29.0000 |
| 373 | | Moldova | 29.0000 |
| 1664 | | Montserrat | 29.0000 |
| | | | |
| --- | --- | --- | --- |
| Code | | Country | Rate |
| 258 | | Mozambique | 29.0000 |
| 505 | | Nicaragua | 29.0000 |
| 970 | | Palestine | 29.0000 |
| 670 | | Saipan | 29.0000 |
| 381 | | Serbia | 29.0000 |
| 232 | | Sierra Leone | 29.0000 |
| 211 | | South Sudan | 29.0000 |
| 597 | | Suriname | 29.0000 |
| 467 | | Sweden Sp | 29.0000 |
| 963 | | Syria | 29.0000 |
| 255 | | Tanzania | 29.0000 |
| 256 | | Uganda | 29.0000 |
| 263 | | Zimbabwe | 29.0000 |
| 257 | | Burundi | 39.0000 |
| | | | |
| --- | --- | --- | --- |
| Code | | Country | Rate |
| 237 | | Cameroon | 39.0000 |
| 236 | | Central African Republic | 39.0000 |
| 235 | | Chad | 39.0000 |
| 269 | | Comoros | 39.0000 |
| 242 | | Congo | 39.0000 |
| 240 | | Equatorial Guinea | 39.0000 |
| 233 | | Ghana | 39.0000 |
| 265 | | Malawi | 39.0000 |
| 222 | | Mauritania | 39.0000 |
| 248 | | Seychelles Island | 39.0000 |
| 290 | | St. Helena | 39.0000 |
| 418, 417 | | Switzerland Sp | 39.0000 |
| 688 | | Tuvalu | 39.0000 |
| 260 | | Zambia | 39.0000 |
| | | | |
| --- | --- | --- | --- |
| Code | | Country | Rate |
| 6726, 6725, 6728, 6720, 6729, 6722, 6727, 6724 | | Antarctica Sp | 49.0000 |
| 224 | | Guinea | 49.0000 |
| 850 | | Korea North | 49.0000 |
| 370 | | Lithuania | 49.0000 |
| 261 | | Madagascar | 49.0000 |
| 212 | | Morocco | 49.0000 |
| 6723 | | Norfolk Island | 49.0000 |
| 386 | | Slovenia | 49.0000 |
| 252 | | Somalia | 49.0000 |
| 243 | | Zaire | 49.0000 |
| 2637 | | Zimbabwe Sp | 49.0000 |
| 6721 | | Antartica | 59.0000 |
| 53 | | Cuba | 59.0000 |
| 689 | | French Polynesia | 59.0000 |
| | | | |
| --- | --- | --- | --- |
| Code | | Country | Rate |
| 266 | | Lesotho | 59.0000 |
| 687 | | New Caledonia | 59.0000 |
| 213 | | Algeria | 69.0000 |
| 882 | | International Networks | 69.0000 |
| 216 | | Tunisia | 99.0000 |
| 246 | | Diego Garcia | 129.0000 |
| 88299, 88233 | | International Networks Sp | 129.0000 |
| 960 | | Maldives | 129.0000 |
| 239 | | Sao Tome | 129.0000 |
| 247 | | Ascension Island | 179.0000 |
| 8812, 8819, 8818, 8817, 8816, 8813 | | Iridium Sp | 209.0000 |
| 220 | | Gambia | 359.0000 |
| 682 | | Cook Islands | 1059.0000 |
| 509 | | Haiti | 1059.0000 |
| | | | |
| --- | --- | --- | --- |
| Code | | Country | Rate |
| 870 | | Inmarsat | 1059.0000 |
| 686 | | Kiribati | 1059.0000 |
| 674 | | Nauru | 1059.0000 |
| 683 | | Niue Island | 1059.0000 |
| 675 | | Papua New Guinea | 1059.0000 |
| 677 | | Solomon Islands | 1059.0000 |
| 690 | | Tokelau | 1059.0000 |
| 676 | | Tonga | 1059.0000 |
| 678 | | Vanuatu | 1059.0000 |
| 685 | | Western Samoa | 1059.0000 |
| | | | |
| | | | |